That Audi has at least one former Minichamps employee on their staff in Ingolstadt likely won't come as much of a surprise for scale model fans who watch the four ring brand. Be it their generous Audi collection offering, their support of niche manufacturers such as LookSmart or even their rich vintage offerings sold at their Museum Mobile, Ingolstadt has an obvious soft spot for the world in miniature. Even still, their most recent creation using miniatures takes their passion to a whole new level.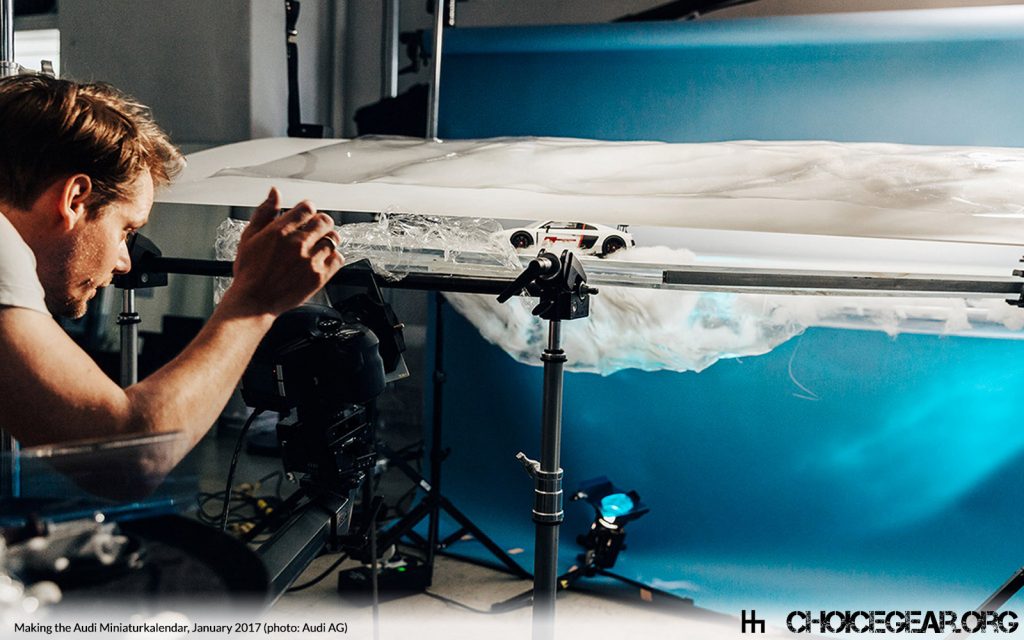 Another tradition at Audi is their focus on beautiful graphic calendars. The Audi Sport motorsport arm and Audi Tradition are but two divisions at Audi that create incredible calendars annually. This year, Audi has created another by creating highly realistic, captivating and sometimes haunting images that might fool even the most discerning eye.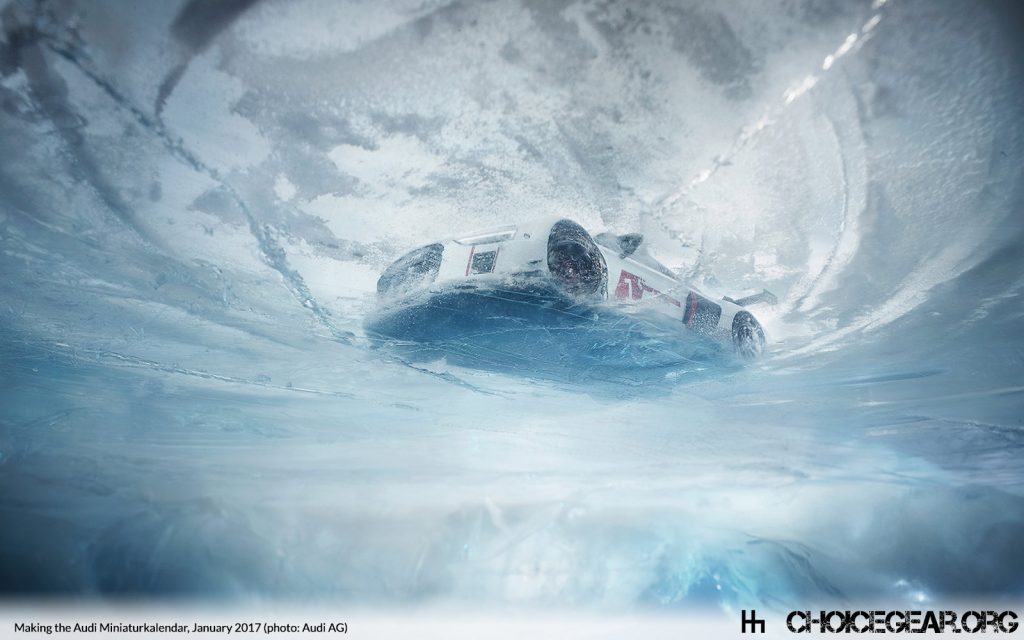 Audi's so-called "Miniaturkalender" features a range of Audi vehicles in backdrops that would cost thousands if not millions of dollars to create in the real world. Fortunately, doing so at a fraction of the size also means at a fraction of the cost. Try shooting an R8 LMS GT3 racer drifting from the murky depths below a sheet of ice and you'll get serious complications. The same goes for a Q7 in the middle of a jungle.
Costly shoots aren't the only consideration. Making weather work with you is also tough. The serene undertone of an Audi A4 sedan with Christmas Tree atop its roof traveling down and abandoned snow-covered city street captures the quiet solitude one might feel on a winter's night, but without the practically impossible to capture conditions of an unplowed and empty city street.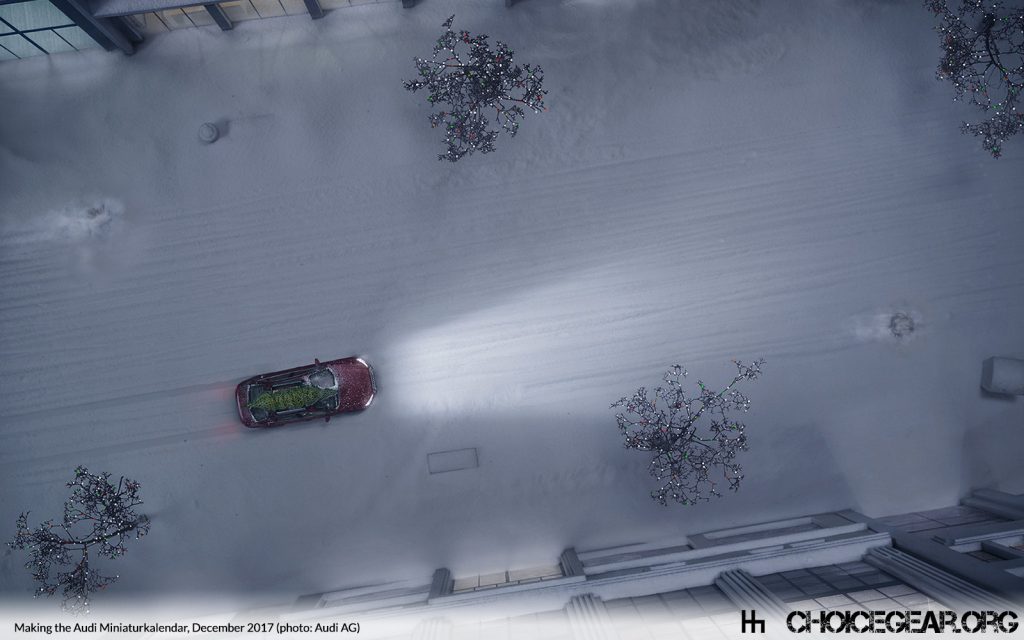 Perhaps the most surreal of the shots created by Audi in its Miniaturkalendar is the November 2017 image. Depicted is the final design of the fabled Auto Union record-setting streamliners. There is no example of the car that exists today and even the earlier and more voluptuous streamliner is a full size replica based on plans and photography. That none of the more post Ferdiand Porsche-era streamliners exists any longer is just part of the wonder though.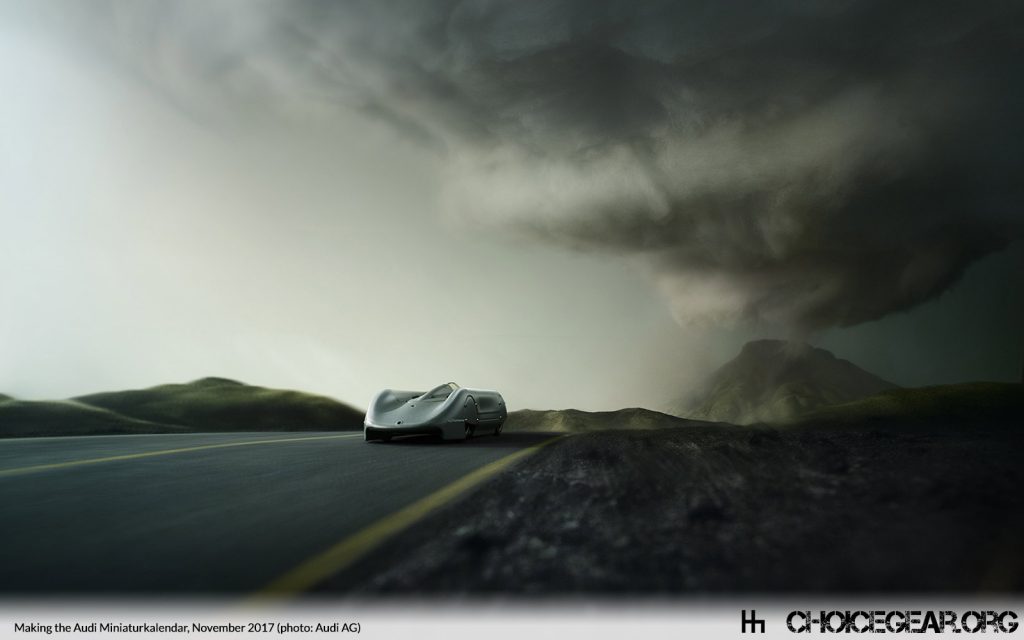 This particular car greatly resembles the streamliner driven by Bernd Rosemeyer on that stretch of autobahn near Darmstadt when a fateful gust of wind blew the car off course, causing the car to crash and costing Rosemeyer his life.  That the recreated sky is foreboding and dark seems to suggest what is about to happen, creating an incredibly haunting effect for those who know Audi history.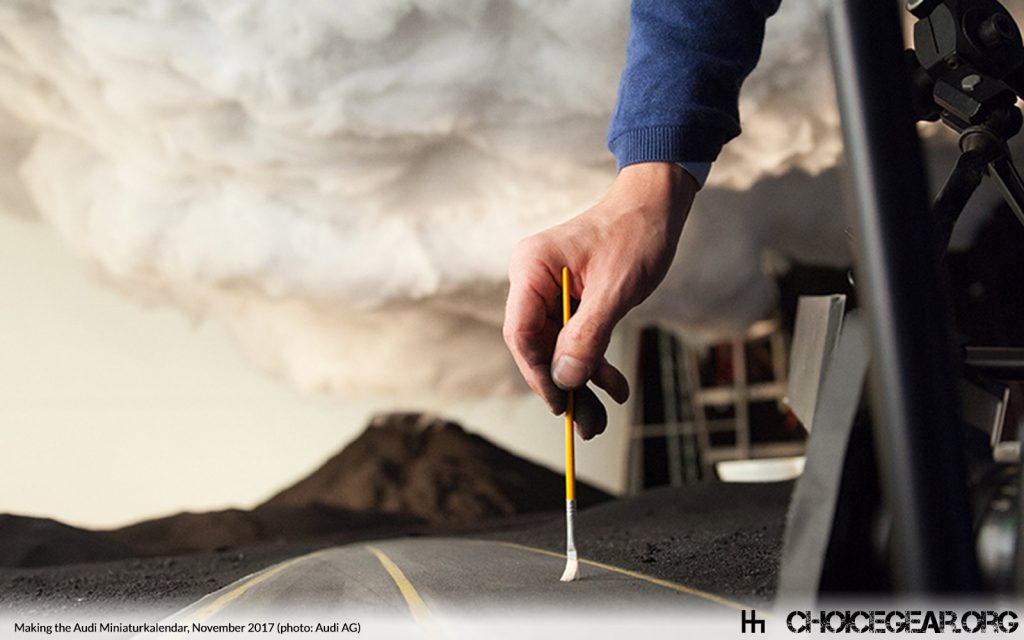 For more information on the Audi Miniaturkalendar and also several videos showing the making of the December and November images, check out Audi's own German market website (in German) HERE. Also see more photos from the making of the calendar in our gallery below.
January
February
October
November
December