Watchmaker Hublot has paired with eyewear brand Italia Independent and renowned Italian tailor Rubinacci to create their latest range of time pieces. Obviously taking key design elements from high fashion fabrics, these aren't your typical chronographs sought-after by car enthusiasts. Even still, the fashion of fabric carries over into cars in obvious ways, such as Houndstooth in a Porsche 911R.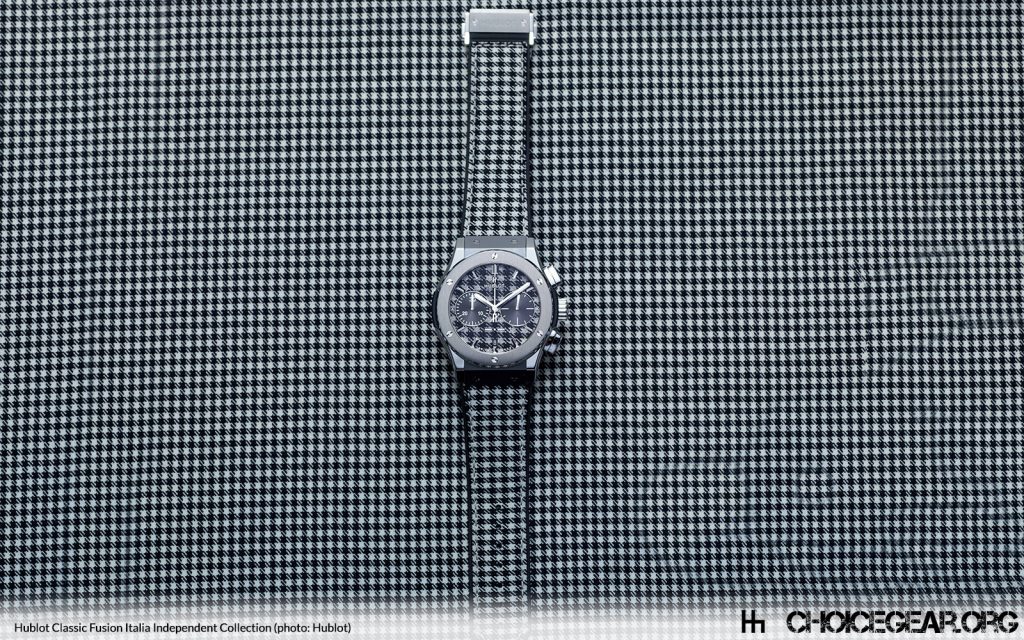 A sharing of houndstooth isn't the only automotive tie in the case of this pairing. Italia Independent is one brand run by Lapo Elkann, the illustrious grandson of Fiat CEO Gianni Agnelli. That's the same Lapo Elkann who also founded Garage Italia Customs, the automobile customization firm that tailors exotics and hyper cars out of a studio built into a converted architecturally significant 50s-era AGIP gas station in Milan.
The watches themselves are based on Hublot's Classic Fusion model. Here, fabric is the centerpiece, playing prominently both in the wristband and also uniquely in the face of the watch itself. Rubinacci is said to have chosen these fabrics based more on the extravagant suits that are a signature of Elkann. That the Agnelli heir is seen as a fashion leader helps here, though it is the somewhat automotive theme of the fabrics chosen that really makes automotive enthusiasts such as our staff and our readers take notice.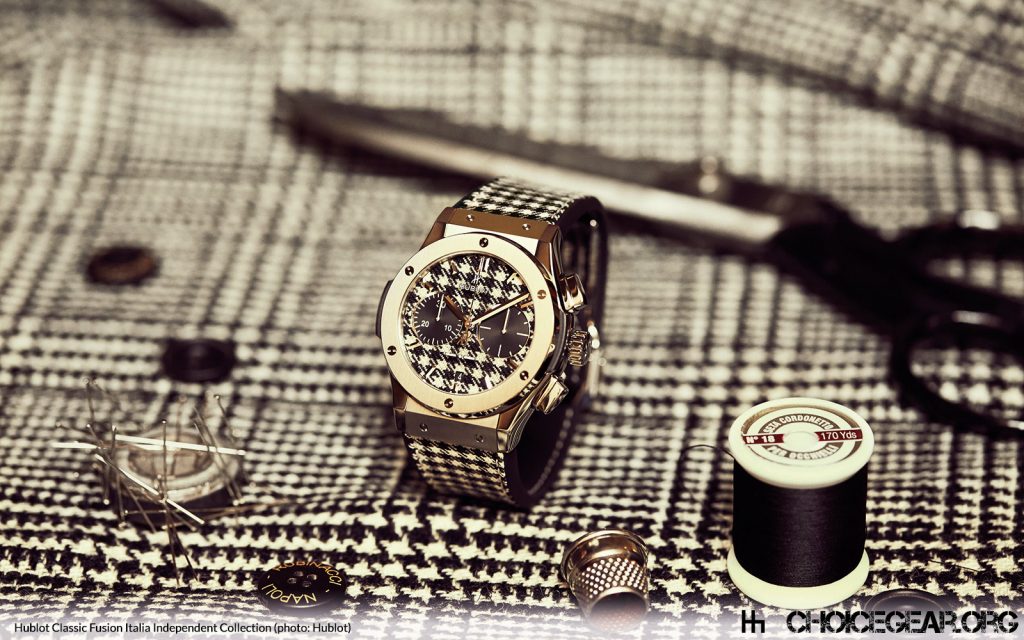 PRESS RELEASE: HUBLOT PRESENTS CLASSIC FUSION ITALIA INDEPENDENT COLLECTION
[source: Hublot]
What do you get when you mix the watchmaking expertise of Hublot, the limitless creativity of Italia Independent through its founder Lapo Elkann, and the treasures of the famous Italian tailor Rubinacci?
The Art of Fusion!
"We are very proud to be able to continue this partnership with Italia Independent and Lapo Elkann, whose creativity and character never cease to surprise us. This new project was an extraordinary experience for us: putting Hublot's capacity for technical innovation and willingness to experiment to the service of the House of Rubinacci—a monument to Italian elegance—and the incomparable style of Lapo Elkann. The Classic Fusion Italia Independent truly represents the fusion of three forms of expertise." – Ricardo Guadalupe, CEO Hublot
Since 2014, two collections have been born from the partnership between Hublot, Italia Independent and Lapo Elkann. Although both of the previous collections were based on the legendary Big Bang Unico model, this time the magic of this wildly creative team was unleashed on the Classic Fusion model. Its name seems to have predestined it for this new special edition: there has never been such a fine example of the fusion of the 'classic' and innovation.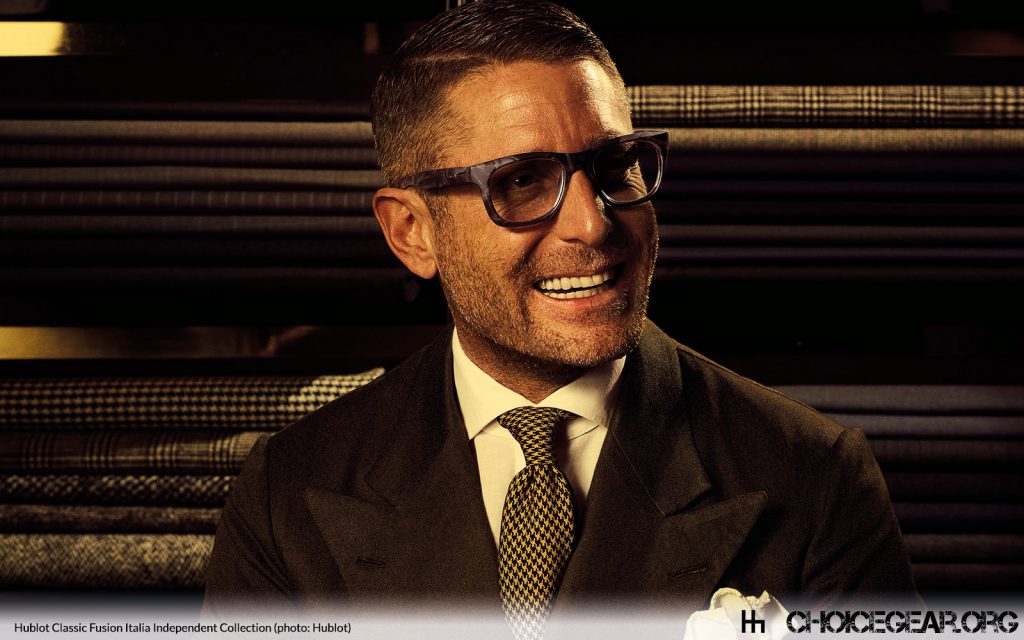 "As a creator, I have always put customisation and bespoke designs, which for me represent real luxury, at the heart of my different projects. It is with this in mind that I conceive and design unique objects, which meet my tastes and requirements, but also satisfy my clients. I like the fact that they become truly mine and that they are distinctive, and this is the case for the Classic Fusion Italia Independent collection." – Lapo Elkann, Founder and Artistic Director of Italia Independent
This was a task that was made-to-measure (no pun intended) for Lapo Elkann who is frequently named "the most elegant man in the world" and who has made bespoke designs and customisation his signature. He brought Ferrari's 'Tailor Made' programme to life, and he is continuing and expanding upon the concept with Garage Italia Customs; cars, boats, planes and helicopters, with a unique level of customisation, personalisation and innovative creativity for the whole mobility industry. Lapo also applies this same expertise to the creations that he designs for Hublot and Italia Independent.
The "sartoria Rubinacci" was not chosen at random: since 1932, three generations of Rubinacci have been at the reins of this institution of good taste and masculine refinement: Gennaro, the founding grandfather, Mariano, the father who now manages the house from Naples and, of course Luca, master of the store in Milan, and one of the most photographed men on the planet thanks to his unique style. Between them they have dressed everybody from the Duke of Kent to singer Bryan Ferry, not to mention of course the Agnelli family, of which Lapo Elkann is the worthy successor.
The House of Rubinacci holds the most beautiful collection of fabrics in its archives. It was here, in the more than 60,000 square metres of precious houndstooth, tweeds and other cloths that Hublot and Lapo Elkann found a collection of tartans—squared coloured wool weaves from the seventies—that they brought back to life by including them in the Classic Fusion as a chronograph. The dial and straps have therefore been made using these precious fabrics to offer this range of 45 mm timekeepers an end result that is the epitome of elegance. "La vera sprezzatura!"
"I chose these fabrics thinking about the costumes that we make for Lapo Elkann. I began with the extravagant colours of a vivid tartan with a sporty tone, then a more traditional houndstooth—in the style of an Italian gentleman—that I wanted in black and white, the colours of his favourite team Juventus F.C. I didn't think that it was possible to put wool on the straps and dial of a watch. But, Hublot managed it and the result is better than I could have hoped for. We have achieved a balanced watch, with a pattern effect that is neither too bold nor too light." – Luca Rubinacci
CLASSIC FUSION CHRONOGRAPH ITALIA INDEPENDENT TITANIUM 
References: 521.NX.2702.NR.ITI17 – Classic Fusion Chronograph Italia Independent "Pied De Poule" (Houndstooth)
521.NX.2701.NR.ITI17 – Classic Fusion Chronograph Italia Independent "Prince de Galles" (Prince of Wales)
Diameter: 45 mm
Thickness: 13.05 mm
Water resistance: 5 ATM (50 m)
Case: Satin-finish and polished titanium
Bezel: Satin-finish and polished titanium, 6 polished titanium H-screws
Bezel lug: Black composite resin (Houndstooth)
Blue composite resin (Prince of Wales)
Crystal: Sapphire with anti-glare treatment and Italia Independent logo at 6 o'clock
Crown: Polished titanium with Hublot logo
Push-buttons: Polished titanium
Back cover: Satin-finish titanium with "Limited Edition 100NUM" engraving (Houndstooth)
Satin-finish titanium with "Limited Edition 50NUM" engraving (Prince of Wales)
Sapphire crystal with anti-glare treatment
Dial: Authentic fabric from a Rubinacci "Houndstooth" suit and black counters (Houndstooth)
Authentic fabric from a Rubinacci "Prince of Wales" suit and blue counters (Prince of Wales)
Hands and index: Polished ruthenium plated
Movement: HUB1143 calibre, automatic chronograph movement
Date: Window at 6 o'clock
Number of components: 280 (59 rubies)
Frequency: 4 Hz (28'800 Al/h)
Power reserve: 42 hours
Strap: Authentic fabric from a Rubinacci "Houndstooth" suit with beige stitching and black rubber (Houndstooth)
Authentic fabric from a Rubinacci "Prince of Wales" suit with grey stitching and blue rubber (Prince of Wales)
Stainless steel folding clasp
CLASSIC FUSION CHRONOGRAPH ITALIA INDEPENDENT CERAMIC 
References: 521.CM.2703.NR.ITI17 – Classic Fusion Chronograph Italia Independent "Tartan"
521.CM.2706.NR.ITI17 – Classic Fusion Chronograph Italia Independent "Prince de Galles" (Prince of Wales)
Diameter: 45 mm
Thickness: 13.05 mm
Water resistance: 5 ATM (50 m)
Case: Satin-finish and polished black ceramic
Bezel: Satin-finish and polished black ceramic, 6 polished titanium H-screws
Bezel lug: Blue composite resin (Tartan)
Black composite resin (Prince of Wales)
Crystal: Sapphire with anti-glare treatment and Italia Independent logo at 6 o'clock
Crown: Black polished ceramic with the Hublot logo
Push-buttons: Back polished ceramic
Back cover: Black polished ceramic with the engraving "Limited Edition 50NUM" (Tartan)
Black polished ceramic with the engraving "Limited Edition 100NUM" (Prince of Wales)
Sapphire crystal with anti-glare treatment
Dial: Authentic fabric from a Rubinacci "Tartan" suit and blue counters (Tartan)
Authentic fabric from a Rubinacci "Prince of Wales" suit and black counters (Prince of Wales)
Hands and index: Polished ruthenium plated
Movement: HUB1143 calibre, automatic chronograph movement
Date: Window at 6 o'clock HUBLOT INTERNATIONAL – Switzerland – www.hublot.com – T +41 (0)22 990 90 00 International Media Relations – Annabelle Galley – a.galley@hublot.ch
Number of components: 280 (59 rubies)
Frequency: 4 Hz (28'800 Al/h)
Power reserve: 42 hours
Strap: Authentic fabric from a Rubinacci "Tartan" suit with grey stitching and blue rubber (Tartan)
Authentic fabric from a Rubinacci "Prince of Wales" suit with black stitching and black rubber (Prince of Wales)
Black PVD stainless steel folding clasp
CLASSIC FUSION CHRONOGRAPH ITALIA INDEPENDENT KING GOLD 
References: 521.OX.2705.NR.ITI17 – Classic Fusion Chronograph Italia Independent "Tartan"
521.OX.2704.NR.ITI17 – Classic Fusion Chronograph Italia Independent "Prince de Galles" (Prince of Wales)
Diameter: 45 mm
Thickness: 13.05 mm
Water resistance: 5 ATM (50 m)
Case: Satin-finish and polished 18 K King Gold
Bezel: Satin-finish and polished 18 K King Gold, 6 polished titanium H-screws
Bezel lug: Black composite resin (Tartan)
Blue composite resin (Prince of Wales)
Crystal: Sapphire with anti-glare treatment and Italia Independent logo at 6 o'clock
Crown: Polished 18 K King Gold with the Hublot logo
Push-buttons: Polished 18 K King Gold
Back cover: Polished 18 K King Gold with the engraving "Limited Edition 50NUM" (Tartan)
Polished 18 K King Gold with the engraving "Limited Edition 50NUM" (Prince of Wales)
Sapphire crystal with anti-glare treatment
Dial: Authentic fabric from a Rubinacci "Tartan" suit and black counters (Tartan)
Authentic fabric from a Rubinacci "Prince of Wales" suit and blue counters (Prince of Wales)
Hands and index: Polished ruthenium plated
Movement: HUB1143 calibre, automatic chronograph movement
Date: Window at 6 o'clock
Number of components: 280 (59 rubies)
Frequency: 4 Hz (28'800 Al/h)
Power reserve: 42 hours
Strap: Authentic fabric from a Rubinacci "Tartan" suit with grey stitching and black rubber (Tartan)
Authentic fabric from a Rubinacci "Prince of Wales" suit with black stitching and blue rubber (Prince of Wales)
King gold and black PVD stainless steel folding clasp