It's not like Slot Mods needs to remind anyone of their car enthusiast bonafides. That said, the ultimate slot car track tailoring startup continues to do so with creation after creation. More recently, the firm has ventured from the super extensive and super expensive one-off builds for the wealthy to more approachable series builds for those who don't have an entire room or coach house to dedicate to slot car racing. Enter their new Slot Mods Origin series, with a very cool design that hat tips one of the most fabled American Porsche racing teams of all time.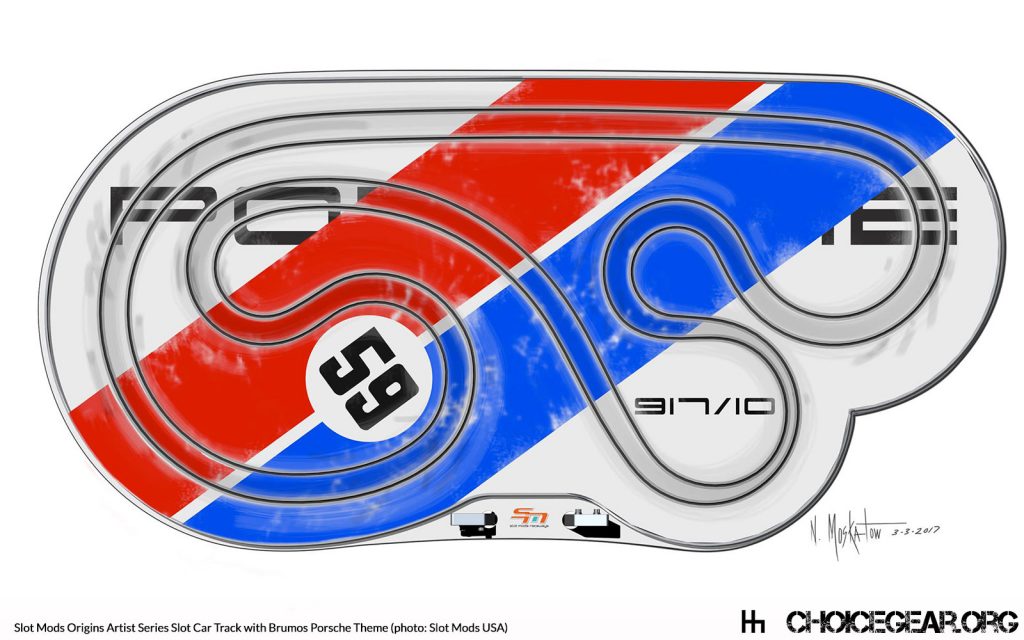 Florida based Brumos Porsche has been a fixture in the world of sportscar racing since 1971. In that time, the Florida dealership backed team tore up the circuits, with special focus on their local courts in places like Daytona and Sebring. In fact, a young chap by the name of Hurley Haywood got his start there, and later operated in sales at the dealership after that. The team and the dealership is the stuff of legends for Porschephiles, so a great American entry to this Origins Series for the a more recently legendary American slot car track firm.
The track itself is a relatively simple and yet slithering layout. Appearing to forego the highly detailed trees, buildings and backdrops often seen in Slot Mods track creations, this configuration appears instead to make use of a weathered-looking print of the iconic Brumos red and blue stripes complete with the #59 and a subtle shoutout to the teams incredible Porsche 917/10 Can-Am car.
As for other details, we don't have much to go on just yet. Thus far, Slot Mods has just teased these two conceptual drawings on their own Facebook page. We'll report more details (and pricing) as we learn it. For now, you can also follow Slot Mods yourself on Facebook HERE.