When it comes to the more extensive (and thus expensive) highly detailed slot car track builds from Slot Mods Raceways, you either need to be considerably moneyed or have a corporate budget in play. It's the latter that funded Slot Mods' latest creation, a winter season rally themed layout built specifically for Vermont ski resort Smuggler's Notch.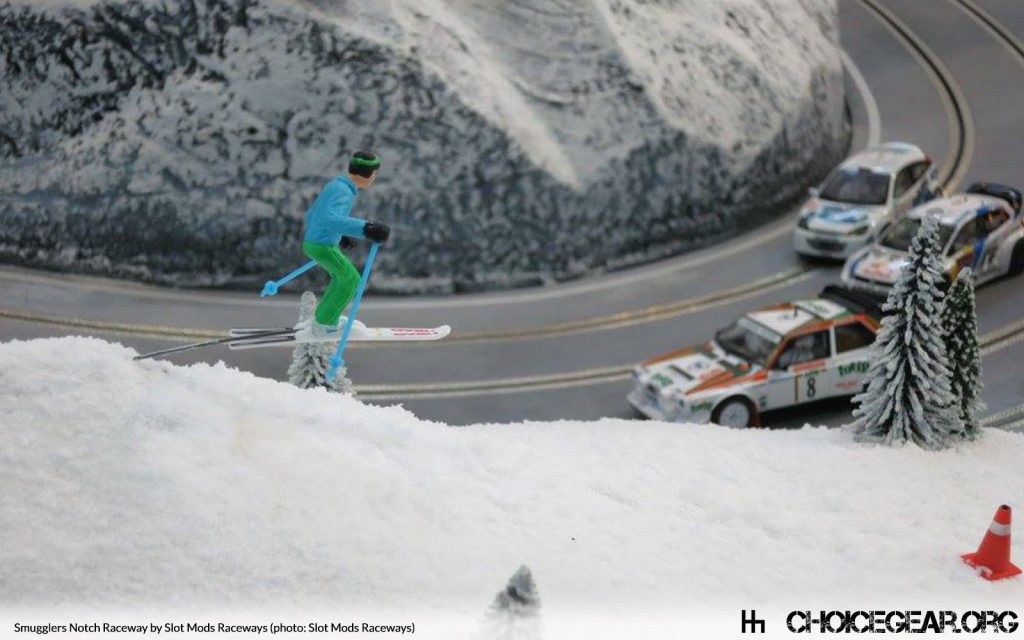 Behold, the Smuggler's Notch Raceway. In a fashion that's becoming typical of Slot Mods Raceways, this latest build delights with scale details most likely haven't seen before. Uniquely in the case of a ski resort looking for something that distinctly speaks to them, the Smuggler's Notch Raceway features a working ski lift and about as many skiers as you might expect to find at a bustling Vermont ski resort. We appreciated the whimsy of mid-air jumping skiers, particularly one going for an ambitious feat as he begins to take air and jump the track itself.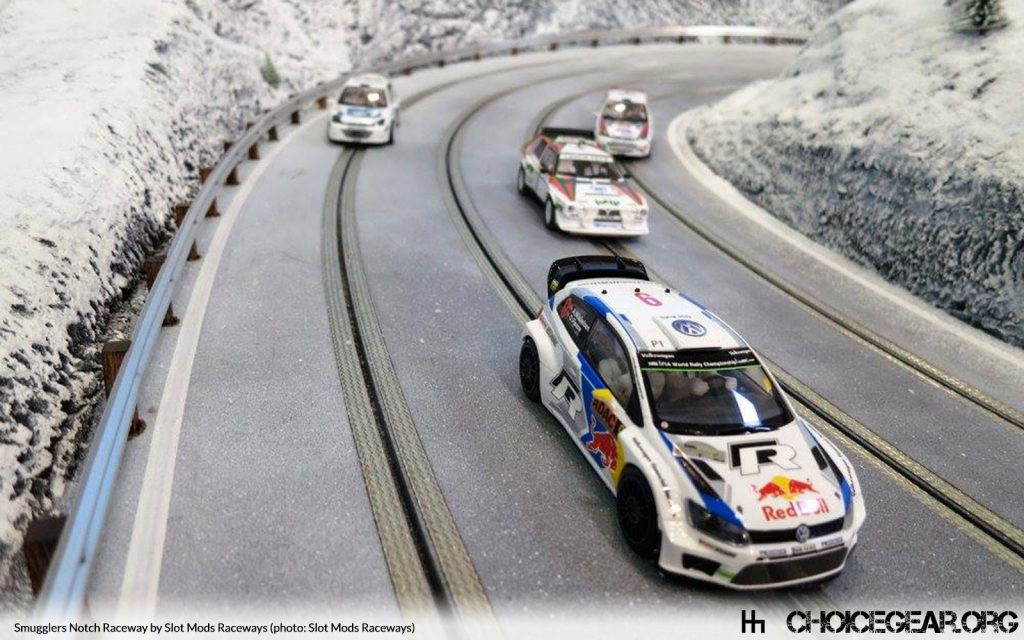 Populating the track with rally cars is fitting. WRC doesn't have a race in the USA, but we appreciate the alpine feel skiing and rally seem to create. Cars, at least in the photos, appear to be a mix of 1:32 scale Scalextric offerings from a Group B Lancia Delta S4, to more modern offerings such as a first-gen Ford Focus WRC or even more timely Volkswagen Polo WRC.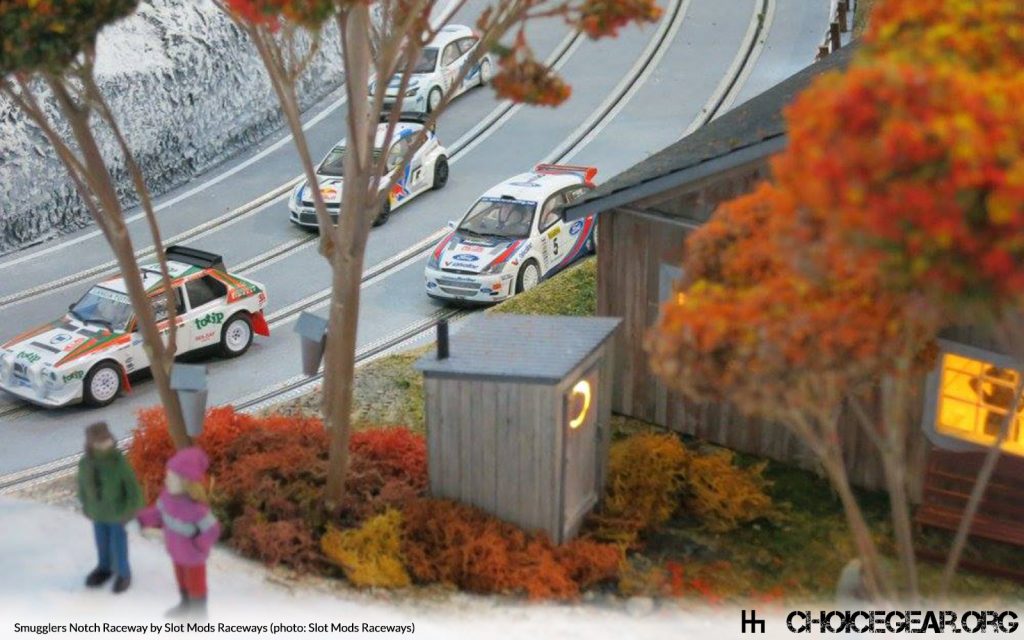 Even better, Smuggler's Notch isn't burying this highly cool track in some boardroom or executive area. Instead, the Smuggler's Notch Raceway has been added to their public "Go Zone" that takes the typical family resort activities such as ping pong and mini golf, and pairs them with even more modern twists such as laser tag, combining walls and of course the Smuggler's Notch Raceway.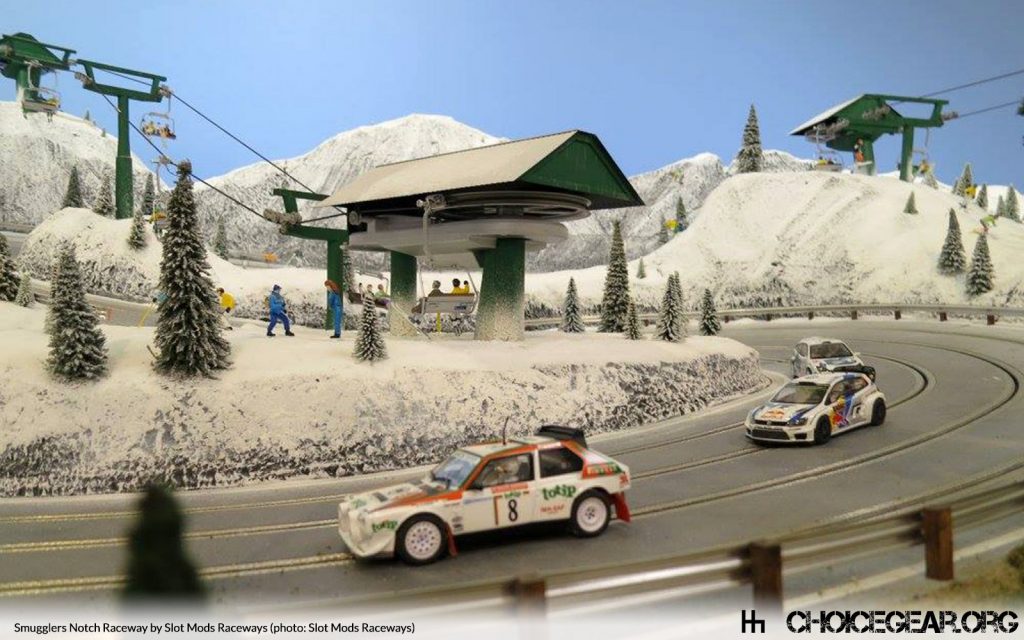 This isn't the first time we've seen Slot Mods apply their magic for a corporate customer. A particularly notable mini documentary Painting Coconuts highlighted Audi Canada's own A4 configuration temporarily set up in downtown Toronto. There've been any number more examples since then, but one thing highly unique about the Smuggler's Notch Raceway is that any guest utilizing the resort's Go Zone can take a spin on one of Slot Mods' creations.
Smuggler's Notch own website description of the attraction includes this description of the track.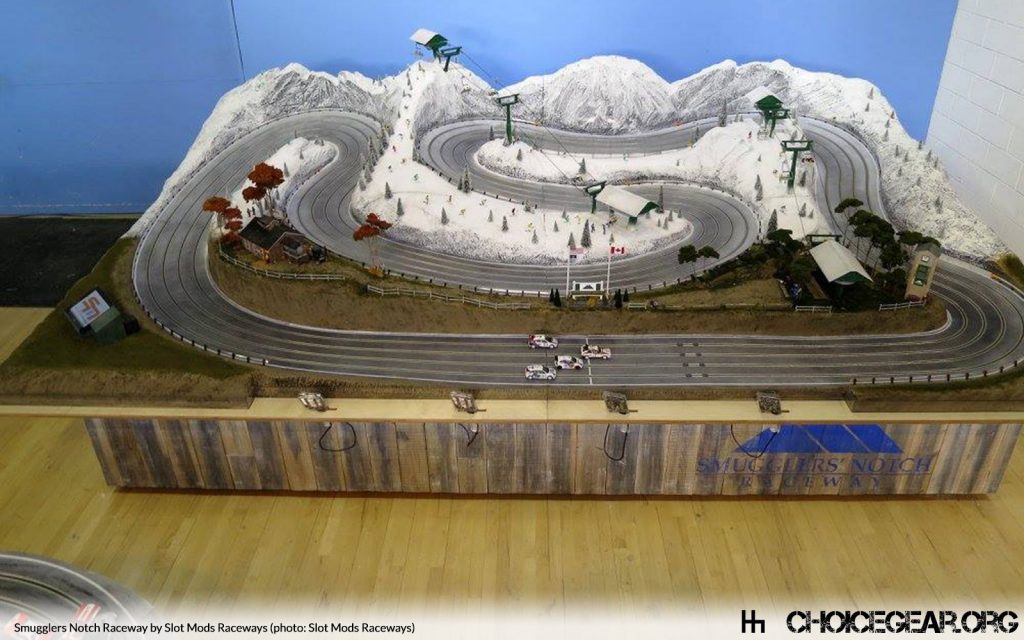 Mountain Rally Races at Smugglers'
The race is on for the arrival of FunZone 2.0, featuring a one-of-a-kind racetrack, right at Smugglers'! Bring out your inner rally racer and challenge all the members of your family to an exciting race! Featuring 3-dimensional topography, multiple lanes, and 1:32 scale cars, racing doesn't get much closer to real life! Who doesn't like a little friendly competition?
We took Smugglers' top rally drivers and paired them with Slot Mods Raceways, the best builders in the business, to dream up this very unique experience for your whole family. Slot Mods founder, David Beattie, says it best, "We're all about creating racing experiences beyond your expectations." Beattie and the Slot Mods team have done just that! This 10 foot by 16 foot track features a full 16 inches of vertical rise from the base of the Village to the top of Madonna!
Starting out with an exhilarating hill climb reminiscent of the Notch Road, you'll soon find yourself zipping around Sterling Mountain, crossing Smugglers' Alley, Drifter, and continuing over to Madonna Liftline. Your next challenge is negotiating the famous hairpin of doom — ease off that throttle here, leadfoot! You'll cross back under Madonna Liftline two more times before climbing again; this time up Morse Mountain! From there, dropping out of the mountains a bit, the scenery changes into an autumn landscape. Watch out! Those leaves on the track can be slippery around the turns. Here, drivers begin seeing the Smugglers' Notch Village coming into frame, but not before first crossing through the sugar woods! Don't get distracted by the smell of sweet maple syrup being boiled in the sugarhouse, you've got a race to win! Keep your focus, you're heading into the home stretch! With lit up buildings, our classic Clock Tower, and more, you might just pass by Mogul Mouse or Billy Bob Bear on your way across the finish line!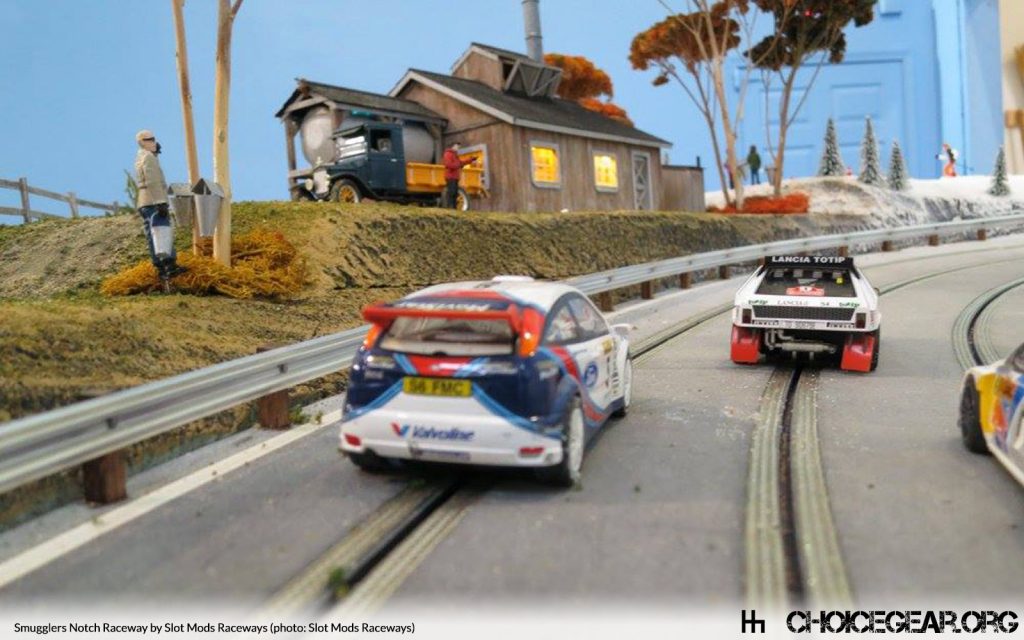 After you head back to the condo, you'll find the fun doesn't stop! Hear your kids tell the stories about racing past mom and dad in the home stretch. Siblings can settle deeply embedded rivalries out on this racetrack! You can even bring the grandparents to experience this nostalgic fun, the space is accessible to anyone and everyone!
Smugglers' has invested over 4 million dollars into the FunZone 2.0, a 26,000 square foot, one of a kind, indoor family fun complex geared toward bringing everyone in the family together to make memories. We are proud to feature this custom designed and built Slot Mods racetrack as part of this massive new project. With the wide variety of activities spread throughout the various zones in this complex, everyone in the family will want to experience the Next Dimension of Family Fun!