Here's the thing they don't tell you about slot car kit tracks. They take up a lot of floor space, because you likely don't have a table big enough to create a really cool layout above deck. On top of that, they start to lose their luster when your loved one is trying to vacuum, the dog walks through your space when you're putting down a solid lap time, or the crap controller that comes with the more affordable set is impossible to modulate. They're temporary, and in as much they spend more time in the box. That's a shame though, which is why the latest offering from Slot Mods Raceways really speaks to us.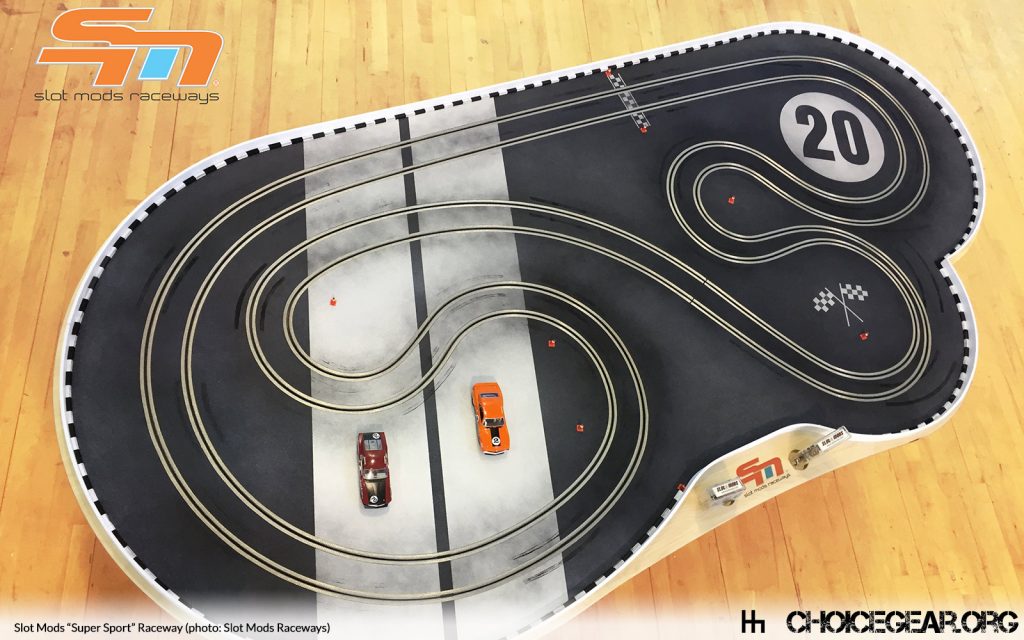 Yes, this is Slot Mods, the same guys who do six figure tracks for auto manufacturers and those rich enough to drop that kind of bitcoin on a highly detailed track layout. Smuggler's Notch ski resort has one, complete with functional ski lifts. Audi Canada built one that ran with iPad controllers and cameras built into cars. The technology and craftsmanship are there in spades with Slot Mods, but for those of us with less discretionary budget for our car enthusiasm, the Detroit-based custom slot car firm has been traditionally out of reach.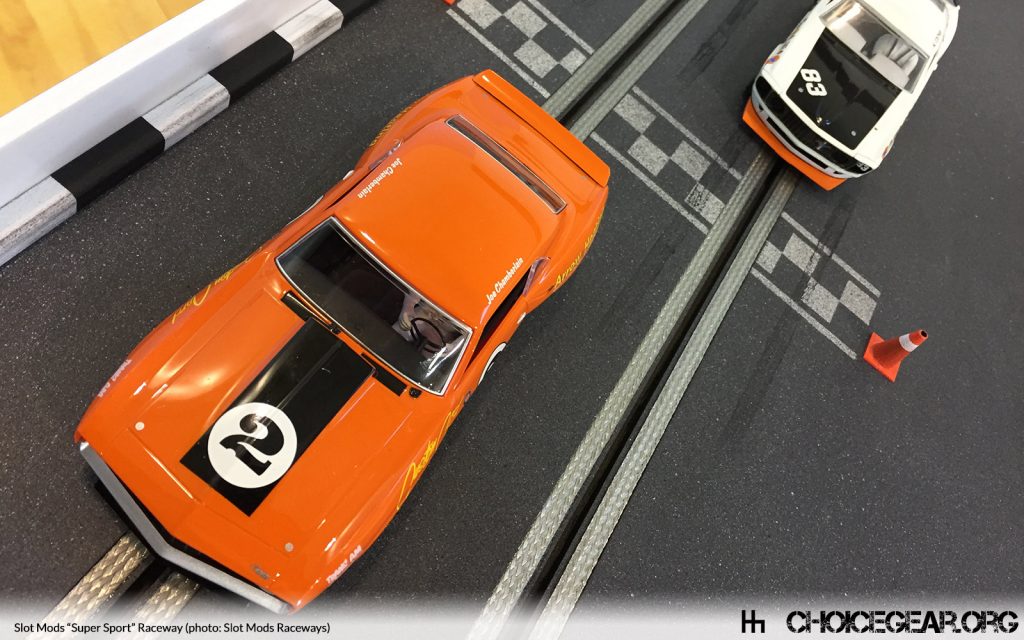 More recently, Slot Mods has come out with some more affordable tracks. First, there were the limited edition "Origins" tracks harkening some choice liveries of yore. Now, there's the Super Sport, a fixed layout tack with equidistant lanes that is more of a fixture for your home and prices in at $2,495.
When you think about it, the idea of a $2500 slot car track makes complete sense. Yes, a track set at the local hobby shop will run you about 1/10th that, but we've already touched upon the limitations of such things. Also, a more detailed build like the ones we've featured from Smuggler's Notch will quickly run you into that six figure territory. What makes so much sense here is what you get for the price. Whereas non-car folk may invest similar money in a pool table for their den or man cave, any self respecting car guy would probably prefer this track.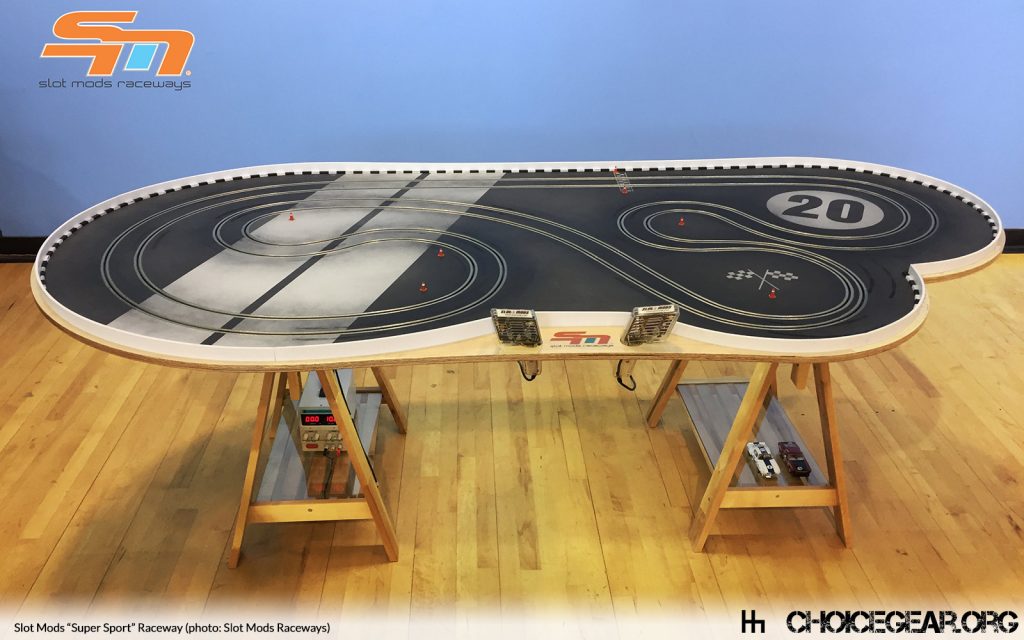 The Super Sport track measures 4'x8′, so close to pool table sizing, and with hand painted surface and finished wood accents. The track configuration itself is also specifically designed to cut much tighter corners and makes for a more intricate layout than you would be able to accomplish with an out-of-the-box track kit… and specially designed to assure both lanes are exactly the same length start-to-finish. Throw in a couple of cars, professional grade controllers, the necessary track supply and more… and now you have a fixture made for a car enthusiast.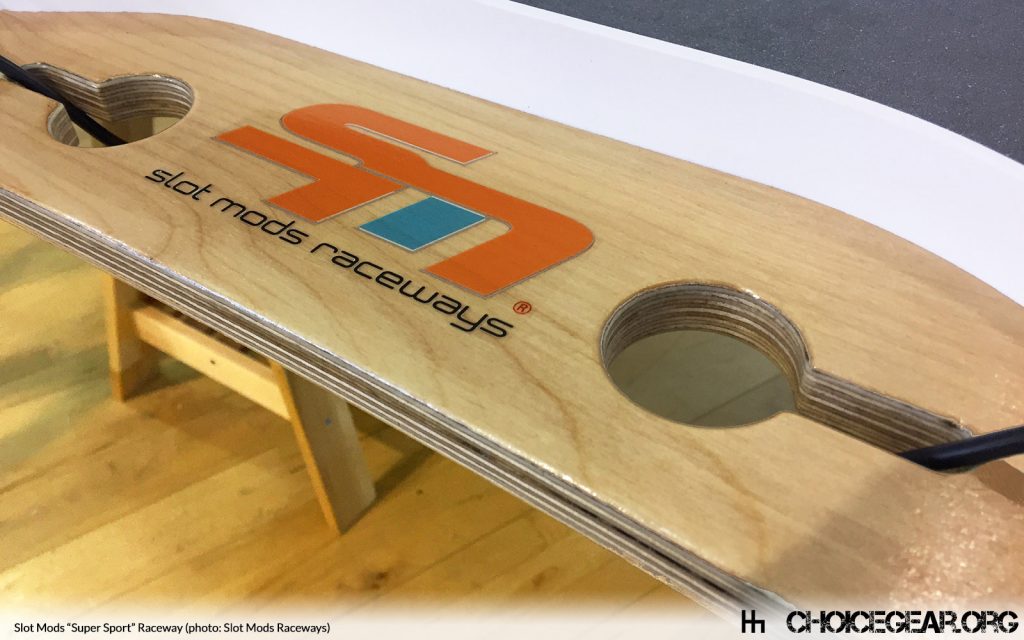 Just like a piece of furniture though, you can't just head down to your local store and pick one up. Custom craftsmanship is built to order, meaning a 6-8 week build time until it's shipped to your door.
More information on the Super Sport track can be found at SlotMods.com. See more photos in our photo gallery below.