With the 2017 24 Hours of Le Mans just around the corner, it's probably no surprise that driving shoe manufacturer Piloti is announcing their latest tie-in. The Italian shoemaker has today released a range of shoes featuring their patented roll control heel, in both casual tennis shoe style and also more formal leather design.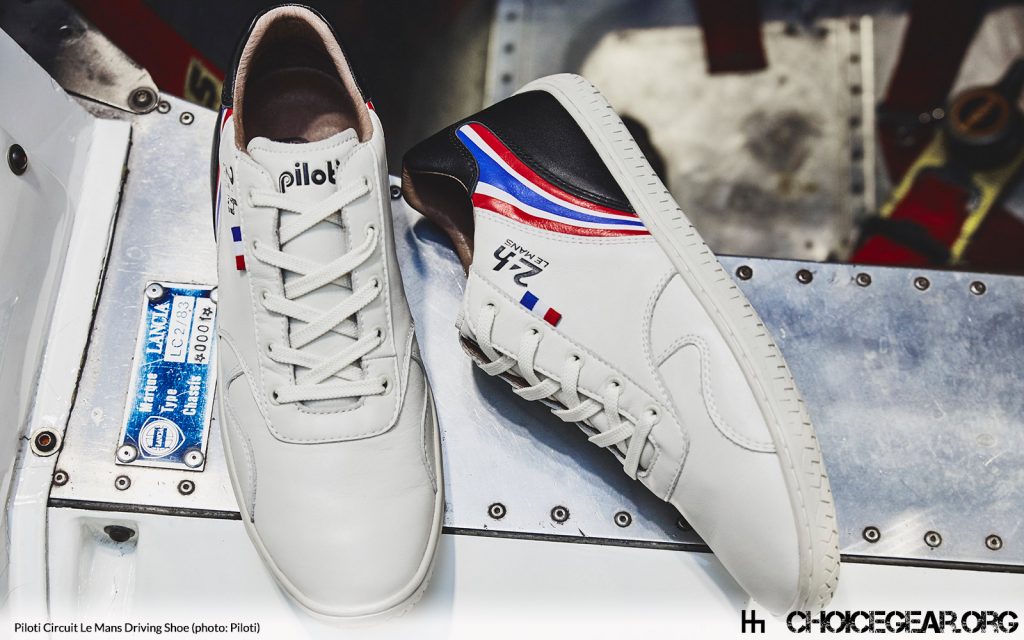 Piloti Circuit Le Mans Limited Edition
This low-cut sneaker-like offering is the more modern of the Le Mans tied offerings. Its racing stripe mimics the French national colors, also often associated with the iconic French endurance race.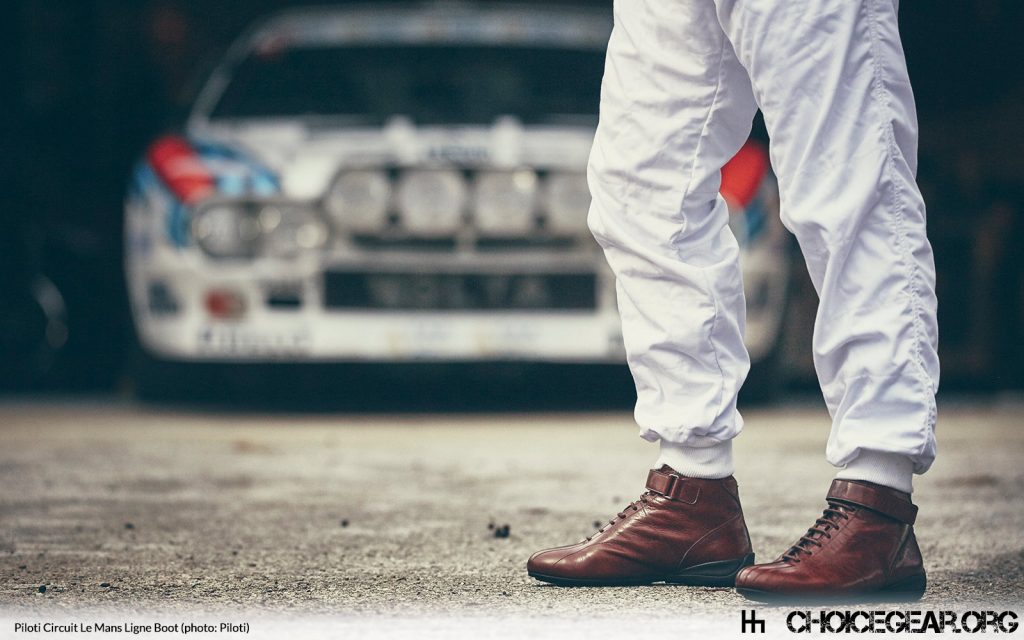 Ligne Boot
Gentlemen drivers have long been a key part of the Le Mans grid, and the new Line boot pays tribute to their own history in this race. Tailored in lightly distressed Italian leather, these vintage-looking high-top shoes feature an ankle belt embossed with the 24-hours of Le Mans logo.
Read more about these new offerings via the full press release below.
Piloti Returns to Its Roots with 24 Hours of Le Mans Special Edition Driving Shoes
[source: Piloti]
Toronto, CANADA – Piloti, makers of technologically advanced driving shoes, today unveiled a line of limited edition leather driving shoes specially designed for fans of the world's most renowned sports car race.
Piloti has a deep connection with the 24 Hours of Le Mans. Piloti's patented Roll Control Heel technology – rising spherically up the back of the shoe providing improved traction in the wheel well and cupping the driver's heel for reduced foot fatigue – was first tested at Le Mans. In addition to pushing cars to their limits, 24 Hours of Le Mans tests the concentration, stamina, strength and skill limits of drivers, creating an ideal laboratory for driving shoe technology. Each driver in the race shares 24 hours of racing with two co-drivers – resulting in the world's best sports car drivers lapping nose-to-tail in the world's finest cars.
Today Piloti honoured its history at the race by unveiling a line of fashion-forward driving shoes.
Inspired by the era of gentleman racers, the luxurious Ligne boot is handcrafted in Italy in subtly distressed Italian leather, and features an ankle strap with an embossed 24 Hours of Le Mans logo and woven French flag ($450.00 USD / $500.00 CDN at Piloti.com).
The low cut Piloti Circuit Le Mans limited edition driving shoe takes its cue from vintage performance racing cars, featuring a race stripe in French national colours and inspired by classic racing liveries. The woven French flag detail is a further nod to the rich heritage of 24 Hours of Le Mans racing ($165 USD / $180 CDN at Piloti.com).
Piloti driving shoes are renowned for such attention to detail – both the biomechanical detail that serve the needs of drivers, and the styling detail like tread patterns based on vintage racing tires. The Special Edition Piloti 24 Hours of Le Mans driving shoes, which will be available for purchase in July, are no exception.
"24 Hours of Le Mans is the ultimate marriage of motorsports performance and motorsports style – so we spent a lot of time creating a driving shoe that respects this event and its fans," said Elena Conte, Creative Director, Piloti. "Our goal with the Piloti 24 Hours of Le Mans driving shoe is to give motorsports fans a new way to share in the Le Mans magic. Our goal as a brand is to respect our motorsports heritage in everything we do."
The Piloti 24 Hours of Le Mans limited edition driving shoes will be available at 24 Hours of Le Mans boutiques (in Le Mans and Paris, France), in specialty motorsports boutiques world-wide, and at Piloti.com. The partnership signed between Piloti and the Automobile Club de l'Ouest (ACO), organiser of the 24 Hours of Le Mans, was brokered by IMG Licensing, exclusive Licensing agency for the 24H Le Mans brand.
"We are privileged to find a partner in Piloti who not only reflects the classic style that surrounds our race, but also understands our goal of expanding and growing the brand image of the 24 Hours of Le Mans," said Fabrice Bourrigaud – Le Mans Spirit Manager. "Accomplishing this goal takes partners like Piloti. The 24 Hours of Le Mans limited edition Ligne and Circuit driving shoes will not only help our fans enhance their own driving experience, but also reflect their passion for our race and its drivers."
The 85th running of the 24 Hours of Le Mans begins at 3:00 p.m. Central European Summer Time (CEST) on June 17, 2017. It also marks the third round of the 2017 FIA World Endurance Championship.
About Piloti
A popular brand from 1999 to 2012, Piloti (Italian for "driver") re-entered the marketplace in 2014 with a new vision to not only create technically advanced driving shoes, but also driving shoes comfortable and stylish enough to wear on the street, at the cafe or in the office. The Piloti collection of performance, casual, luxury and special edition footwear and apparel is available across Canada, the United States, the United Kingdom, Australia and Japan at select Motorsport and luxury retailers. Performance and Casual styles range from $135 to $240 USD. Luxury styles range from $350 to $500 USD.  Visit Piloti.com for more details.
"Given the leg torque required to push the brake pedal in a racing car, the Piloti racing shoes provided the critical support to minimize the pain and numbness to the ball of your foot, particularly in the long endurance races like the 24 Hours of Le Mans," said Ron Fellows, who raced a Corvette C5.R to 2 class wins and 7 podium finishes in 9 Le Mans starts. "I switched to the Piloti shoes in 2002 and have used them ever since."
About 24 Hours of Le Mans
24 Hours of Le Mans runs on the Circuit des 24 Heures du Mansin Le Mans, France. The circuit contains a mix of closed public roads and a specialist racing circuit, designed to balance speed with a cars' ability to race for 24 hours without sustaining mechanical damage. This Grand Prix of speed and endurance is broadcast annually in more than 190 countries. The Le Mans 24 Hours is a brand which conveys two sets of values: "innovation & performance" and "chic & glamour". Find us on www.24h-lemans.com and on www.boutique.lemans.org